Yet another attempt is being made to rid the town of the eyesore that is Kings Point, by converting it !.....

I've no idea where they come up with their proposed sale prices, unless they have a crystal ball....
EDIT: Updated design
Developer:
CNM Estates
Current Status:
Under Construction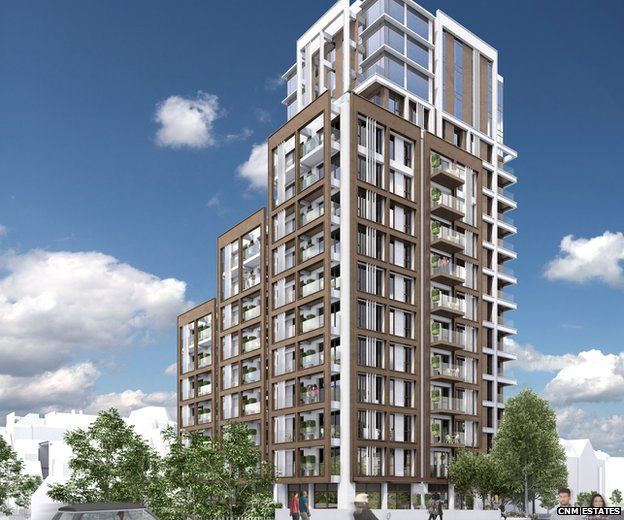 Plans are being drawn up to transform Reading's "number one eyesore" into luxury apartments to rival those in central London.

The Kings Point offices look set to be converted into 70 flats complete with six penthouse apartments, two with rooftop gardens, costing up to £4 million each.

A consortium is being put together to fund the multi-million pound project, to be renamed Kings Waterside.

The derelict 1960s' offices in Kings Road have become a haven for rough sleepers and drug addicts ever since being earmarked for demolition and redevelopment in June 2006.

But a group of investors called Project King intend to transform it into their vision of a 12-storey complex, which could be completed by 2013.

Daniel Hillman, head of private equity and development firm Hillman Holdings, which is heading up the scheme, said: "This development will bring the glamour and interest of London's prime luxury to Reading.

"Kings Waterside will be a striking architectural landmark in Central Reading. It will be the first eco-friendly real estate development here and will set a trend for neighbouring developments and future opportunities within Reading.

"It will be at the very forefront of design, and high in luxury but at the same time it will be sympathetic to Reading's heritage and history.

"The development will be tailored to the environment so it doesn't just look like it's been plonked there. It will stand out in its own setting."

Previous plans to build an 11 to 13-storey building with shops and affordable apartments collapsed after developers Kenavca Properties went into receivership in 2006.

Since then the office block has been frequently coated in graffiti, the council and police have reports of drug dealing at the back of the building and squatters have moved in.

Mr Hillman said the consortium is purchasing the site from the beneficiaries of the now defunct Kenavca group and hopes to submit an outline planning application this summer.

"I know people in Reading are very eager to see it demolished," he said. "It does look terrible but I can see beyond that. There is so much potential there.

"If I could choose one building in Reading to redevelop - it would be that one. It is in a prime location right on the corner of Kings Road."

The entrepreneur, who studied at Reading Art and Design College, is also confident the property market will pick up and hopes to achieve £1,300 per sq ft when the scheme is completed.

"Times aren't great right now but I believe the market will improve and property prices will begin to rise again in 2012," he said. "The demand is there. But it's not just about a building.

"I want to make a lasting commitment to bring the finest parts of London to Reading.

"We have a great opportunity to create a town to match the glamour and fine dining you see in the capital."

The news has been welcomed by Tony Page, lead councillor for planning, who has previously described Kings Point as 'Reading's number one eyesore'.

He said: "I'm very keen to see this site redeveloped because it is a real eyesore.

"I hear that the squatters are back in there.

"The principle of a residential development such as this is most welcome. Reading Borough Council gave planning permission for the building to be demolished and redeveloped more than two years ago but nothing has happened.

"As soon as something is done to demolish it the better."